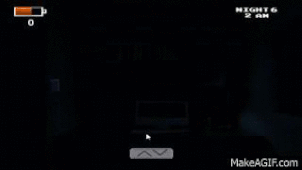 Power is a game mechanic in Five Nights at Wario's. It acts as a limit so the player only closes the Doors and uses the Lights when the player needs to.
Advantages
Power can be saved by opening doors, closing the camera, and turning off lights.
The player starts out with 200 power.
Disadvantages
Limited power.
Using doors, lights, and cameras will drain power.
Wario comes out to kill the player if the power runs out.
Trivia
The power indicator's color (blue, green, yellow, orange and red) tells how much equipment the player is using. It grows bigger as more equipment is used.
Instead of having 100% power, the player has 200% power. It is unknown why the player has 200% power, it's possible that the power drains a lot more or each hour lasts longer.
During the phone calls, the power bar doesn't drain.This is currently unknown, or WwwWario made an oversight.
Power Usage Calculations
1 Bar = No power out.
2 Bars = Power out at 6:30
3 Bars = Power out at 5:21
4 Bars = Power out at 4:10
5 Bars = Power out at 3:00
Ad blocker interference detected!
Wikia is a free-to-use site that makes money from advertising. We have a modified experience for viewers using ad blockers

Wikia is not accessible if you've made further modifications. Remove the custom ad blocker rule(s) and the page will load as expected.