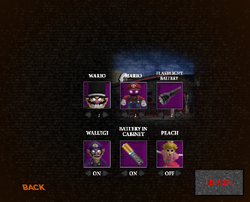 The Custom Night is a night in Five Nights at Wario's: Origins that gives the player access to the AI control of Wario and Mario but also the level of difficulty with the flashlight mechanic; the higher it is, the faster your flashlight will run out of power. The player can also toggle Waluigi and Peach, and the battery system.
Trivia
This is the only custom night in the series.
The fact Luigi isn't included in the Custom Night might make him seem not dangerous, or only able to be seen during the third night .
The 3/20/3/ON mode is possible, just very difficult

However a youtuber by the name of Luigikid Gaming was the first to beat 20/20/20 mode on FNAW:O. although this was before the cooldown on the mushrooms was added.

The hardest difficulty possible is by setting Wario, Mario and the Flashlight to level 20, Waluigi and Peach at ON and the Battery at OFF. Doing so, you will eventually die no matter what, especially because by turning the Battery OFF, you will be forced to go to the Bathroom to recharge your battery.
Custom night shouldn't exist because they are ghosts not animatronics

However the battery and flashlight could exist
Gallery
Ad blocker interference detected!
Wikia is a free-to-use site that makes money from advertising. We have a modified experience for viewers using ad blockers

Wikia is not accessible if you've made further modifications. Remove the custom ad blocker rule(s) and the page will load as expected.